Welcome to Southampton Beer Festival 2019
The 2019 CAMRA Southampton Beer Festival is on Friday 7th and Saturday 8th June at St Mary's Stadium.
This year the festival will showcase up to 75 cask ales, featuring a range of high quality traditional ales, new and exciting craft ales, Brewery collaborations, and one-off specials. This vast range of beers will also be matched by a range of international bottled beers, real ciders and erry, a key keg bar and new to the festival, a selection of popular gins – something to inspire and appeal to all tastes.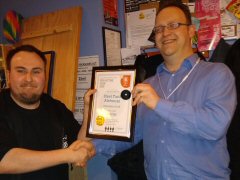 We're delighted to announce that this year's festival will be officially opened by Adam Beal, landlord of the Steel Tank Alehouse, Chandler's Ford (Southern Hampshire CAMRA's Pub of the Year 2019).
This year's festival will consist of three sessions:
Friday 7th June 11:30 — 16:00 (quiet session) — £6
Friday 7th June 18:30 — 23:00 (live music) — £10
Saturday 8th June 11:30 — 19:30 (single all-day session; pub-style quiz & live music) — £10
Tickets are available to purchase - see our Tickets page for more details, including where you can buy tickets from. They're available online, from local pubs, and throught the post. in mid-April.
The layout of the festival has also been developed, incorporating the newly-furnished and contemporary-decorated Gasworks suite as a second festival room and its outside 'beer garden' to allow the enjoyment of your drink while catching the summer sun (click here for more details about the Gasworks). We've moved our volunteer area out of the Gasworks suite to make it fully available for customers. Inside the Kingsland stand, there will again be plenty of seating in the spacious layout.
Based on customers' feedback a new food menu will be introduced (see our Food page for more details), including pulled pork in a bap, Thai curry and a gourmet burger. We are also pleased to welcome back Olives and Things with their Mediterranean inspired snacks.
To find out more about the festival, please follow us on social media (see the logo links on the left-hand side). You can also find out about other local CAMRA and Non-CAMRA beer festivals by joining our BeerFests Mailing List.
Please see our Winners page to see results of our 2018 Beer of the Festival, Cider of the Festival and charity donations — all of which were decided by our customers.
Southampton Beer Festival is run by volunteers from Southern Hampshire CAMRA.

Cheers,
The Southampton Beer Festival Team